Before 2021, Pamtech Group was one of the many automobile companies that existed in Nigeria. There was nothing special about them but that is not the case when you look at the brand today. Everyone is talking about them; everyone is trying to learn something from what they did to get here. The brand has done so well that its CEO, Engr. Chidomere Ndubuisi was accepted into Forbes Business Council. Are you still doubting their marketing efforts? Let's go to the streets of Twitter;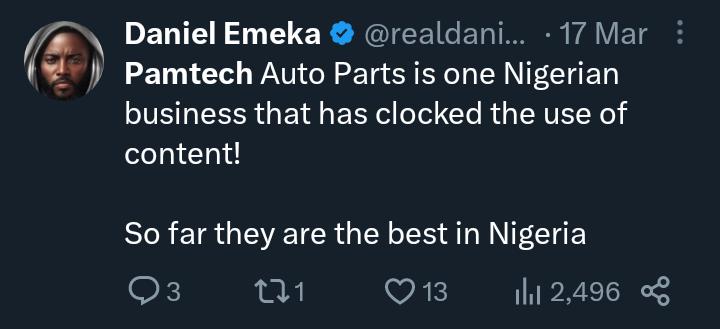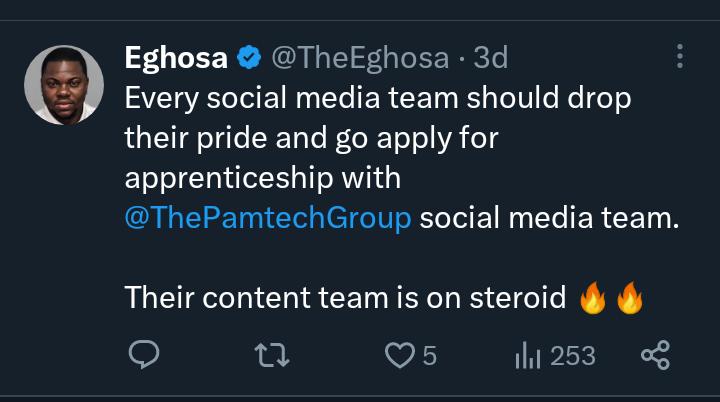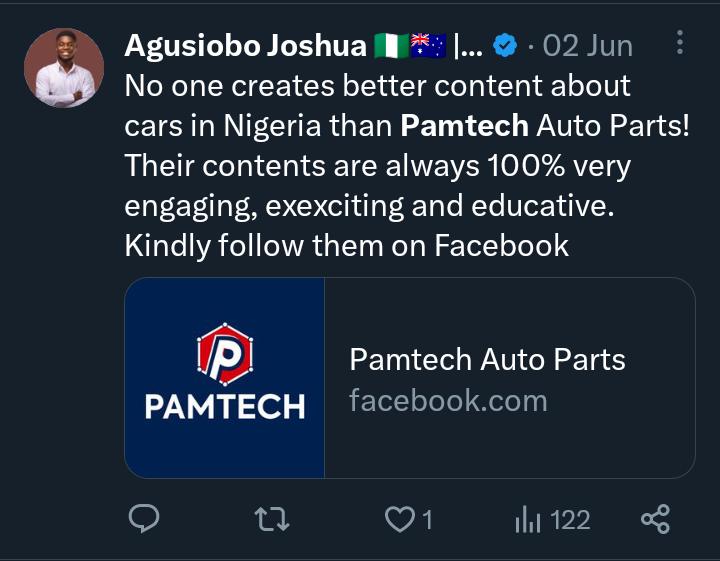 The value of combining content and marketing can only be seen in results and this is the story of the Pamtech Group. Today, our focus would be on how Pamtech's marketing strategy gave them 100k followers in less than a year. It is not just about them gaining 100,000 organic followers in that time even. The mindblowing part is how they connected to the audience and converted them into brand ambassadors.
Pamtech Group identifies as a member of the downstream sector in the oil and gas industry. This now seems odd as a loyal community is not something common here. With a head office in Owerri, Imo state – Pamtech offers started by offering a whole range of services to their immediate surrounding. This included;
Oil and Gas – sales of premium petroleum products
Autoland – auto-maintenance and auto-repair services
Autoparts – original equipment manufacturer parts at incredible prices
With the combination of services that complemented each other, the top of the marketing funnel has a lot of people. Energy, oil and gas products are consumed every day, people always need to maintain and repair their automobiles and replace parts. However, marketing is a tricky business, a lot of people at the top of the funnel do not always mean more customers.
How Pamtech Gained Over 100k Followers in Less Than a Year
The goal for Pamtech was to reach a broader audience and took one of the easiest routes – content marketing. They understood that the right content marketing strategy would get them in the faces of those who needed their products and services. It is evident when you look at the Pamtech website that they understood the assignment.
A lot of social media marketing was the focus in the early days which was the right first step. They needed to build a community and social media was always going to be their best bet. Today the search for keywords like 'Pamtech Instagram' and 'Pamtech TikTok' is high and is a testament to the amazing marketing work that was done.
Whether it was on Pamtech's Instagram account or Pamtech's Facebook – connecting with the audience was the goal. They wanted enough brand awareness to always be on the minds of people when they needed Pamtech services.
In the early days, they focused on introducing their brand and what they did to the general public. This formed a core of the type of posts they made and they used Facebook, Instagram and Twitter for this. However, the desired effect was not achieved – they still struggled to achieve their first social media objective which was building followers. Without this objective, they couldn't convert enough followers to customers, making achieving their sales goal harder. This is where they went back to the drawing board and came back with magic.
The Content Marketing Strategy That Changed Everything
The new marketing strategy of the brand came in late 2021 just after COVID-19. This time, they considered things like their industry, trends in the social media space, how the world was positioned, their audience and what they had to offer. The new content strategy put the audience first and focused on the buyer journey throughout the funnel. They understood that it had to be the right message in the right format for their audience at the right time.
From the side of social media trends and how the world was positioned, they discovered the power of video content. This discovery is what gave birth to Pamtech's TikTok account. A lot of social media platforms were prioritizing video content and they had to. Also, they looked at their products and realized that the most marketable one was Pamtech Autoland. They divided their target audience into two – those who owned automobiles and those who wanted to own automobiles.
Pamtech began to create content that both the social media platforms and their audience would love. They educated those who owned cars on how best to maintain them. Pamtech also created content guiding those who planned to own cars on how to go about it. Their social growth is just the tip of the iceberg. As we said, this was only an objective; the goal was always to improve sales and this strategy has helped them achieve that. The brand awareness and trust created have fostered partnerships. Making it easy to sell Pamtech services to the general public.
More than just loyal customers, the brand has been able to build an army of ambassadors actively promoting its services online and offline. The popularity of Autoland has also rubbed off on the other services/brands since Pamtech runs a branded house.
How This Strategy Can Work for Your Business
The very first thing the Pamtech content marketing strategy understood is the audience. The marketing team understood the reasons why people follow pages on social media, which are;
Affiliation either by employment or being family/friends with someone there
Being informed or educated by the posts shared on the page
Getting inspired or motivated to be better either at life or business
For entertainment purposes
To enjoy freebies – giveaways, discounts and deals
Knowing that it would either be one or the other, they focused on covering every aspect with their content. Saling might be your goal but sometimes trying to sell might not be the best way to go about things. Pamtech focused on what their customers wanted to see and gave them that.
Understanding your audience, the industry and what works is important when developing a marketing plan. Pamtech decided it was video content and education was the niche they chose but it might be different for your business. However, you will need to create a community of brand ambassadors if you want the business to keep going forward. This is why you should not ignore content marketing when you are trying to improve brand visibility, trust and customer reach.
Final Thoughts on the Pamtech Success Story
The Pamtech group had a marketing team that understood their assignment and today the brand is reaping the benefits. Whether you are looking at Pamtech's Instagram or Pamtech's Twitter, 100k organic followers are no joke. This reiterates the importance is social media marketing which is a core of content marketing, it is important to note that Pamtech did not just focus on one aspect of marketing. We are praising their social media marketing today but that is not the only area doing well. They have a user-friendly website/e-store, a blog/newsletter, excellent customer service, etc.
They have all the tools necessary to gain a new follower, nature him from social media to their blog/newsletter. Also, with the help of their customer support and user-friendly services, buying what they sell becomes easy. This is basically what we at Alphabase have always preached to our clients and the result speaks for itself. It is not as easy as it seems to carry out research and understand the market and find the best way to enter it. We at Alphabase, pride ourselves on our ability to do the heavy lifting for you. This allows you to focus on the business and how to further improve your value.
The Pamtech story is one ringing bell all over the country both online and offline. It all originated from a series of content they started online. Today it is Pamtech but it can be your brand tomorrow. All you need to do is send us a message today and let us take care of your business growth.