5,000,000 without spending a dollar? Yes, Attenvo got it and nothing is stopping your business from doing so too. Attenvo happens to be the first client for us at Alphabase headway and they had a simple goal – to grow their organic traffic online. Now, whether in the digital space or the physical world, growth as we all know is measured solely by numbers. So, in this article, our focus will be both on the numbers and how we were able to get there.
Attenvo is a data-driven tourism and hospitality product that connects hospitality businesses and listings to customers and provides information/guides for travel customers. Whether you were planning to go on a date or a vacation abroad, Attenvo has all you need. The business model and idea were built on giving information which meant people needed to see them. This is why search impressions were important to Attenvo, they wanted to be there when someone searched Google topics relating to their industry. Although it seemed simple on paper, Attenvo's advertising strategy had to be top-notch for all this to work. This is where Alphabase Headway and her team of creatives came in.
There was only one problem – they didn't want us to spend anything on online ads. We had to grow their account organically. Let us show you how we did this.
How We Got to 5 Million Impressions for Attenvo with $0 Spend
Whenever we talk about Attenvo's marketing success story, there is one question that seems to always repeat itself. How were you able to do it? Now, for some new to digital marketing, you would have so many questions to ask. Some people would start looking for things like how to calculate impressions from CPM, CPC and others.
The argument between paid advertising and organic growth has gone on for a very long time and we are not trying to put an end to it. However, research has shown that organic marketing and growth have always been more beneficial long term. This was why our marketing strategy for them focused on organic first. The strategy was advanced SEO and content creation but before all that we needed to understand their market and business. This is because content creation and SEO were going to be based on the target audience. Now, let us talk in detail;
Keyword Research
This was the bedrock of everything we did to achieve over 5 million search impressions for Attenvo without spending a dime. It is not rocket science, SEO is the surest way to get organic reach. For Attenvo, the focus was on finding the keywords in their niche. Understanding the keywords that people used creates a springboard for creating content which would eventually rank. Some of the keywords, we got from our research and analysis;
Vacation in Nigeria
Vacation in Zanzibar
Things to do in 2023
High-value customer
Vacation spots in Nigeria
Restaurants in Abuja
Spas in port harcourt
Hotels in Uyo
Food delivery apps in Lagos
Cheap restaurants
Resorts near me
These were a few of the many keywords we identified and from the images below you can see that Attenvo is ranking on Google's first page for 95% of them and is number 1 for 80%. Identifying the keywords is by far the most important step towards free impression generation.
SEO also involved some technical work on Attenvo's website. This involved optimizing the sitemap, fixing broken internal links and analyzing other links on the website. The technical SEO part of things continued after the content creation.
Content Creation for Attenvo
Once the keywords were identified, the next thing was to go on with content creation. Our first angle was creating a database with what the target audience for Attenvo wanted. Our focus during this database creation was places, tourist attractions, resorts, hotels, spas, restaurants and gyms. Indexing these places meant that Attenvo was going to be part of the search result when people search for them on Google.
Also, the creation of the Attenvo blog was included as a strategy as we need to have content for our keywords. We begin creating blog content using the keyword and topic cluster technique. For example, Attenvo has an article that talks about summer vacation in Nigeria which generally talks about the best way to spend summer there. It also has specific articles that talk about summer vacation in different places (Abuja, Port Harcourt, Lagos, etc).
It was cost-effective marketing as we knew what people search for and we provided that exact information. There wasn't a need for us to pay to be seen because we created what people wanted to see.
Social Media
Social media remains one of the most effective impression-boosting techniques with no budget. Creating relevant content on social media rubs off your impressions and traffic. This is because Google also crawls social media for content to give to users when they search for topics. So even when the website or blog did not rank for a topic, social media was present. Social media also served as a springboard to land people on the Attenvo website and pages hence boosting visit views and clicks.
Attenvo's social media marketing focus on video and graphical content still aligns with the user persona created initially. The content was created to inform, educate and or entertain users and this proved to be a winning combination.
Attenvo's Numbers as Seen on Google Search Console and Analytics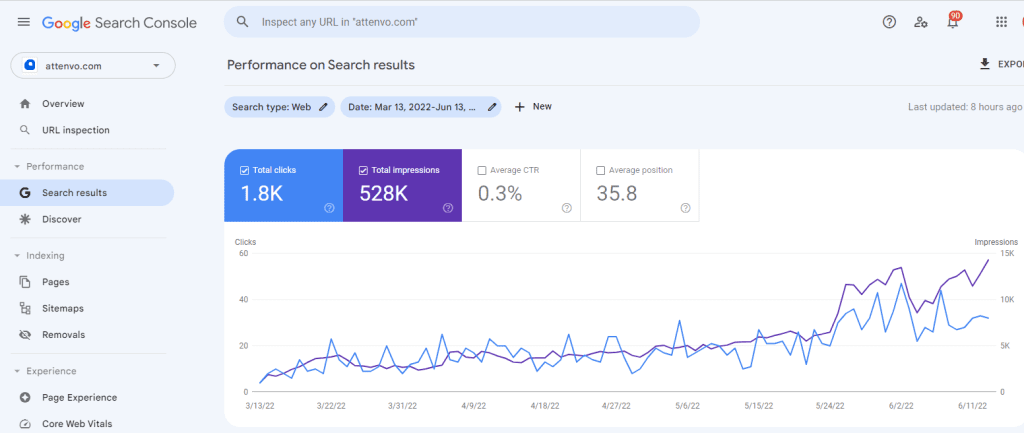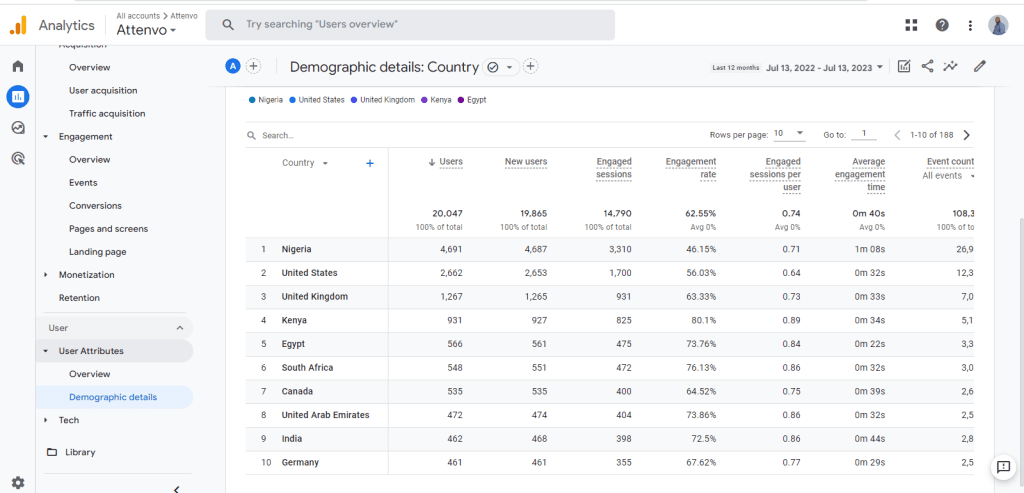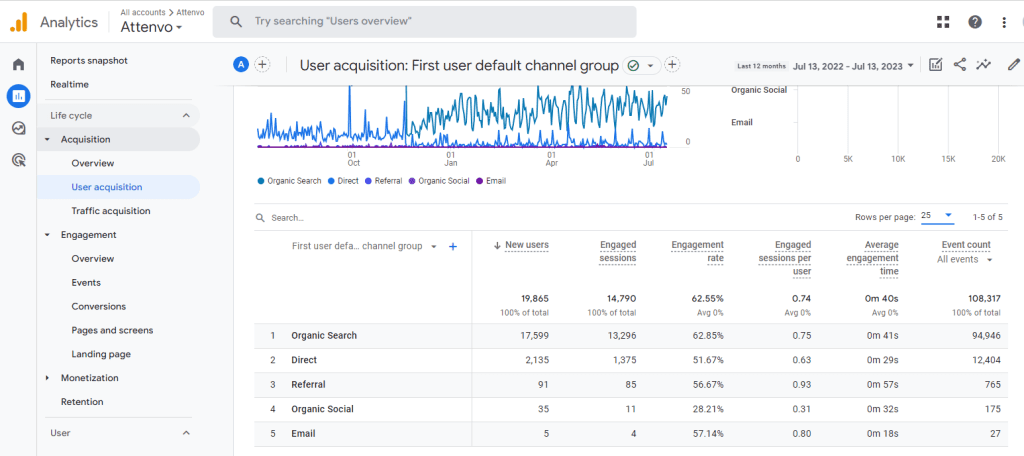 How to get millions of impressions with $0
Attenvo's success is all the proof that there are free ways to generate impressions. The most important thing is understanding first what your business does and who you want to serve. Knowing the behaviour of who you are serving is very important when you are doing your marketing strategy and plan. From this impression growth case study, some of Attenvo's digital marketing success tips you can apply to your business include;
Technical SEO is as important as on-page/content SEO
Spending time and using all available resources when doing your keyword research
Your content should be either educative, informative or entertaining
Conclusion on Attenvo Brand Visibility Success Story
Organic growth is a slow process but it is surely worth it, in the long run. Advertising success is calculated when you compare how much was spent to the result that was gotten. This is why we consider our Attenvo journey a success and why the client has continuously chosen Alphabase Headway for their growth, strategy and marketing.
From content to social media strategy, from industry and competitor analysis to SEO, we remain robust in our offering. As we said at the beginning growth will always be measured in numbers and this is what we continue to provide, For Attenvo today and probably for your business tomorrow. Send us an email today to get started at [email protected].